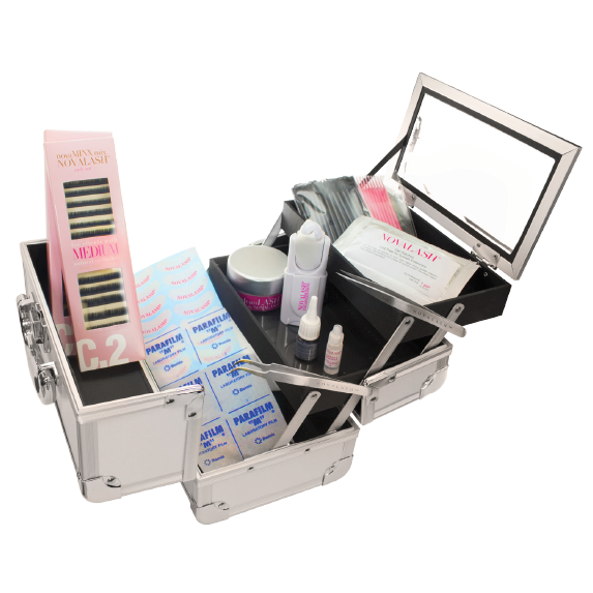 NovaLash Classic Conversion Online Certification Course
Become NovaLash Certified!
We believe every Elite Lash Artist should be Team NovaLash. NovaLash is the first and most awarded lash extension company in the industry. If you've been trained by a different extension company, NovaLash can help you perfect your skills and teach you how to apply lash extensions that last two times longer than the next leading competitor – in half the time. Plus, you'll gain access to invaluable resources, tips, and techniques to grow your lash extension business.
Our certification course is facilitated in two parts to enhance your business practices at a comfortable pace.
Part 1. Online theoretical training and practical coaching video call with Senior Educator. Manual and deluxe kit mailed to you upon purchasing course.
Part 2. Practical case studies submitted to your educator with continued coaching and mentorship. Certificate mailed to you upon completing case studies.
Included
Features and Benefits
Eligible Students
1 Metal Carrying Case
1 Platinum Bond (5ml)
1 novaMINX C curl .20 medium
1 novaMINX C curl .20 long
1 Moisturizing Adhesive Remover (3ml)
1 Basic Curved Forceps
1 Basic Straight Forceps
7 Undereye Stickers pairs
6 Parafilm squares
1 CleanLASH jar (50 pads)
10 Gel Patch pairs
20 Microbrushes
25 Mascara Brushes
Mannequin Head
Practice Strip Lashes
*Included NovaLash products subject to change
5 hours of practical (hands-on) instructor-supervised training 
Learn the theory and science behind eyelash extension products and techniques 
Discover how to protect the health and safety of your clients 
Explore the most efficient and effective application techniques to safely and successfully perform lash extensions
Upon completion of the course, a written and practical application skills test, and 5-step case study, you'll receive a NovaLash Certificate and join the worldwide NovaLash team of stylists 
Lashes are instantly oil-proof and waterproof, resulting in a more satisfied client
Professional lash artists seeking a Classic certification with NovaLash
Included
1 Metal Carrying Case
1 Platinum Bond (5ml)
1 novaMINX C curl .20 medium
1 novaMINX C curl .20 long
1 Moisturizing Adhesive Remover (3ml)
1 Basic Curved Forceps
1 Basic Straight Forceps
7 Undereye Stickers pairs
6 Parafilm squares
1 CleanLASH jar (50 pads)
10 Gel Patch pairs
20 Microbrushes
25 Mascara Brushes
Mannequin Head
Practice Strip Lashes
*Included NovaLash products subject to change
Features and Benefits
5 hours of practical (hands-on) instructor-supervised training 
Learn the theory and science behind eyelash extension products and techniques 
Discover how to protect the health and safety of your clients 
Explore the most efficient and effective application techniques to safely and successfully perform lash extensions
Upon completion of the course, a written and practical application skills test, and 5-step case study, you'll receive a NovaLash Certificate and join the worldwide NovaLash team of stylists 
Lashes are instantly oil-proof and waterproof, resulting in a more satisfied client
Eligible Students
Professional lash artists seeking a Classic certification with NovaLash
NovaLash Classic Conversion Online Certification Course